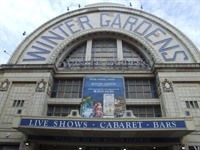 Wintergardens
The Gresham Hotel is only 4 minutes walk from the famous Winter Gardens.
The Impressive 1878 building boasts several venues for shows and events, plus bars, a restaurant and cafe.
The Winter Gardens is situated in Blackpool's town centre, and only around 250 metres from the sea front. You can find a variety of shows and entertainment for.